Early 2010s Military Tribute Prototype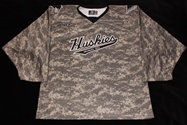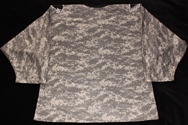 Comments:
Another jersey which was found on Ebay in 2014. We estimate this jersey was proposed to MTU in the early 2010s based on the crest which appears to be borrowed from the 2009-12 alternates and includes the "MICHIGAN TECH" in the tail of the cresting. This jersey also features the redesigned v-neckline which was first used on Tech jerseys for the 2010-12 road set.
The other design features (shouler patches, neck tagging, fight strap, etc) were very similar to other jerseys of this era. This jersey did not likely get much interest from MTU as there isn't a distinct military presence in the area other than MTU ROTC or military testing conducted at the Keweenaw Research Center.
However, with that being said, it would have been a sharp looking jersey with silver / black / white numbers and names. The other reality which likely kept these jerseys off the ice is that the team would likely have lost money as the Huskies don't have a strong following of fans which collect game jerseys.